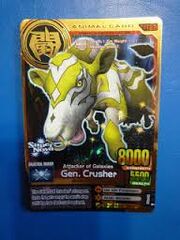 Name : Gen. Crusher
Flag : Galactical Invaders
Nickname : Attacker of Galaxies
Scientific Name : Bos Taurus
Length : 1.6 metre
Weight : 1.1 ton
Food : Meadow grass?
Type : Heavy 
Ability : Super Nova
Class : Gold Rare
Strength : 8000
Health : 5500
Attacks :
G : Usi Usi Funsaigeri
T : Akaki Matador
P : Daichikyuu Tour ( Best Attack )
Description :
The Galactical Invaders' strongest. Once he gets angry he won't stop until he has destroyed a planet.
Trivia :
It's a very rare Heavy animal comparing to the others because its Strength is more than its Health.
His real name is General Crusher.